Architecture
West Georgia Street is Vancouver's ceremonial street. Within walking distance of the site, the street hosts large-scale athletic, institutional, commercial, and cultural facilities, all of which are representative projects of their periods. The location of Deloitte Summit is privileged for being in the center of this transformation, and for this reason seeks to respond to the wealth of architecture and contribute to the pedestrian scale through combining dynamic massing with dense greenery.
The building is conceived as a playful aggregation of "reflective" yet transparent stacked boxes. Each box contains 4 floors and its width is roughly equivalent to its height. The multiple orientations of the stacked boxes capture the sweeping views of the surrounding city while the spaces in between the cubes are filled with greenery whose vertical orientation binds the otherwise scattered massing. With the rotation of the stacked box configuration occurring every 4 storeys, it creates an opportunity to provide outdoor balconies at the bottom of each stacked box. The balconies range in size and are strategically located adjacent to a living / green wall, creating a vegetative setting for these unique and highly desired outdoor spaces.
From the interiors, the 3-dimensionality of the greenery is a striking presence that closes the distance with the mountainous backdrop. The character of the work space is designed to be open, fluid, flexible, but also diverse. Unlike the first corporate towers with curtain walls and open plans in the 1950s, this new, creative work environments elicits collaboration, creativity, and spontaneity. Here, the boxes create natural compartments within a continuous floorplate, allowing offices to be variously partitioned while also staying close to the façade. The floors and ceilings of the cantilevering portions are glazed to visually link the garden, the offices, and the street below. The resulting diversity of spaces is complimented by the diversity of views, whose orientation is not only horizontal, but also vertical.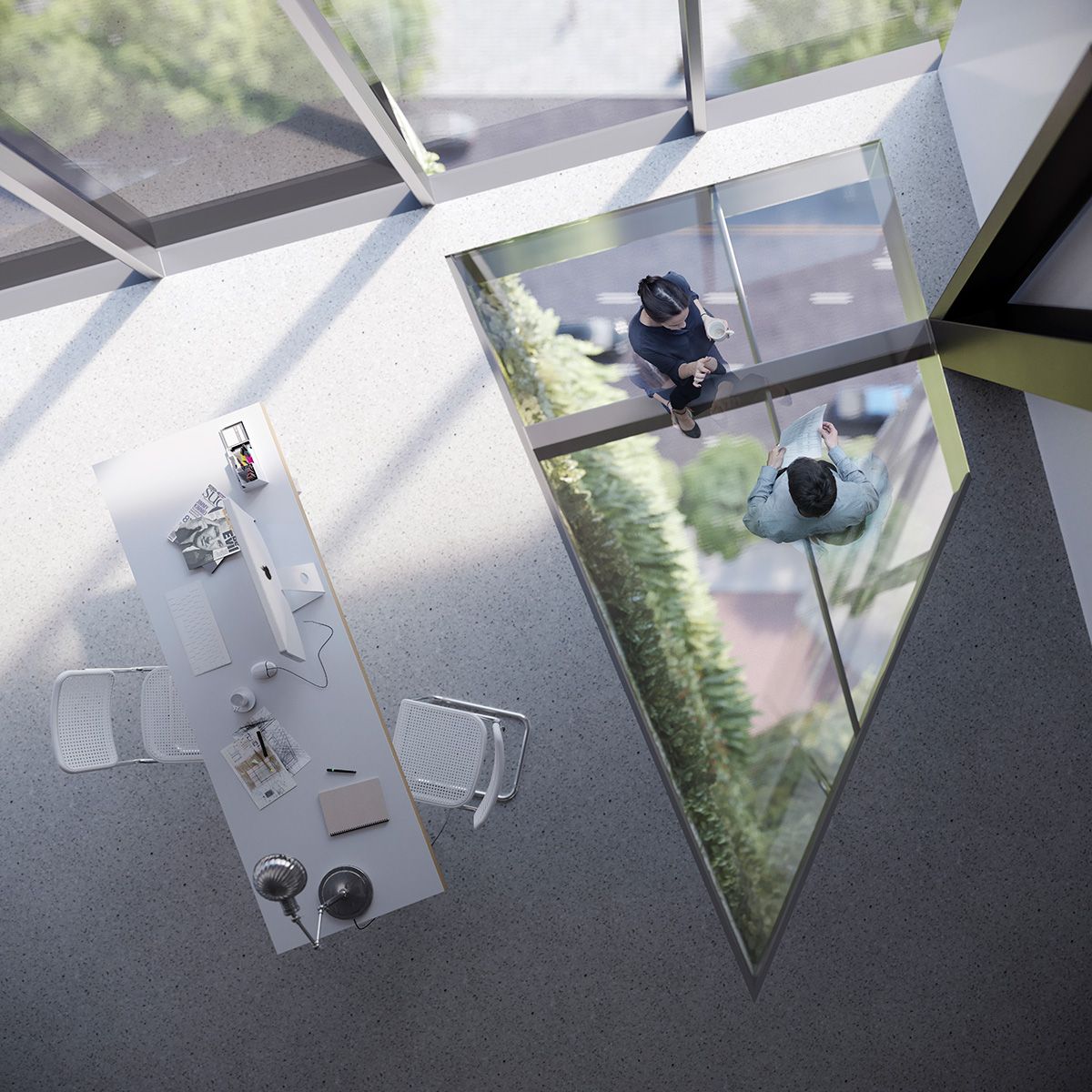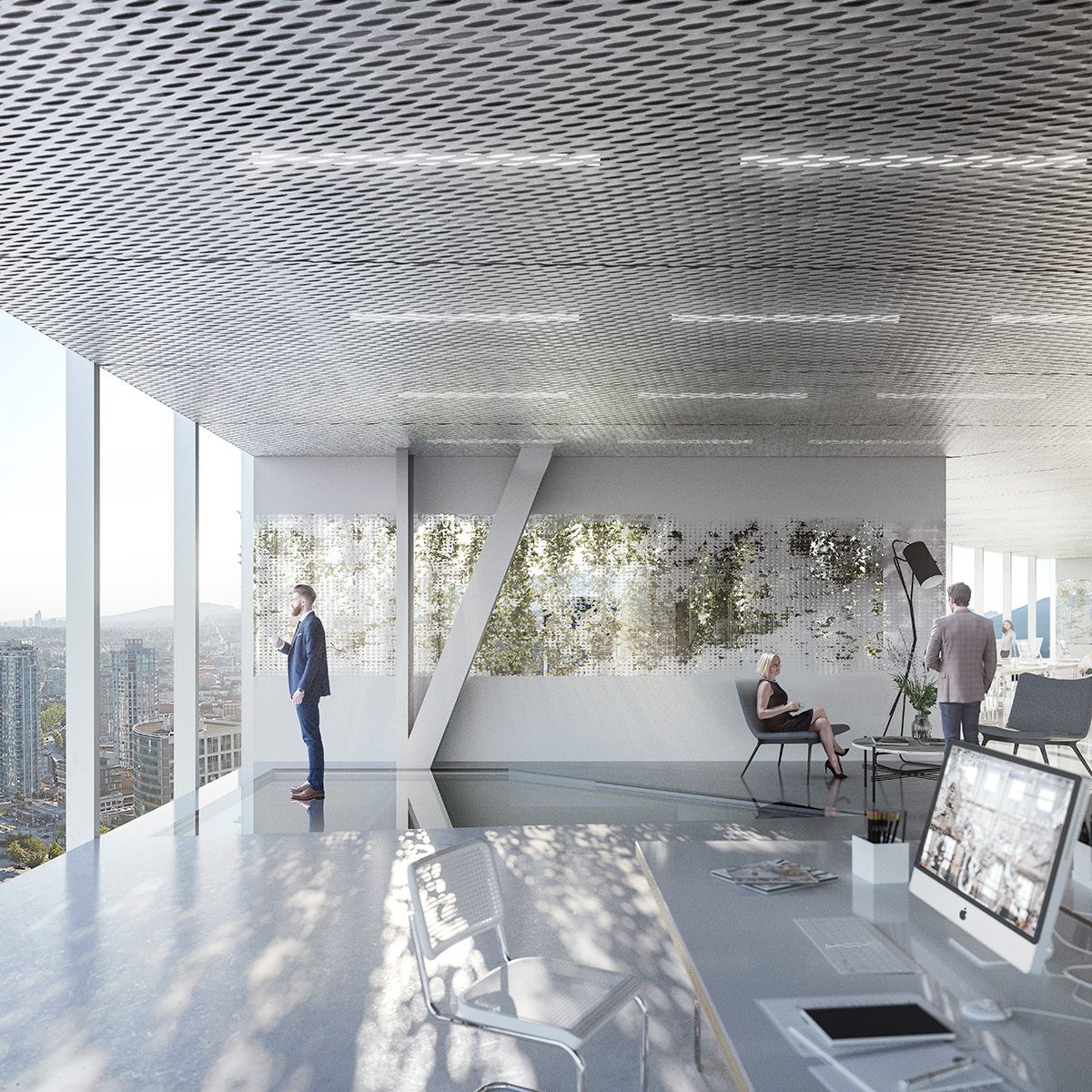 OSO
OSO is an international design firm based in Tokyo. With a foundation in architecture and an appreciation for art, the aim is to think creatively about space-making across all fields and scales. Fashion, photography, stage design, and land art all become possible sources of inspiration that enrich the architectural experience.
OSO is a cultural product of Europe and Japan. It seeks to communicate bold ideas while effacing itself to refine details. Western canons of art and architecture – variously simple and grand at the same time – form a solid point of reference. Still, in keeping with Japanese traditions of art, the objective is to evoke strong feelings rather than invoke deep thoughts – as in the placid realm of the tea house, the experience is ephemeral and atmospheric.
OSO is a partnership between Esteban Ochogavia and Michael Sypkens, formerly colleagues at Kengo Kuma and Associates, whose novel pursuit of small to large – the detail becoming the building – has left a lasting impression on how to think about beauty without form.
OSO has worked with Westbank from inception, and for this reason is deeply entrenched in Westbank's ambition of city building creating new cultural standards. Not only does Westbank challenge architects to think outside the box; it asks architects to design outside of architecture. The realization through Westbank is that good ideas are inviolable, and hence worth the effort of realizing.
OSO, 2017
Merrick Architecture
A proposal for Deloitte Summit
It seems a cliché. Perhaps one all too obvious.
We live in a global village.
This state of being may have begun to evolve with "contact" of simpler civilizations with more complex, or with the invitation of that phenomenon we call the "industrial revolution", which in itself evolved at very different times in different civilizations around the world. Whatever the case, this phenomenon evolved across world societies at an ever increasing rate of change, such that in our contemporary world as we know it, that rate of change is exponential, the last few decades of a contemporary person's lifetime seeing as much change as all the previous millennia that man has evolved on the planet up to that time.
In architecture we used such phrases as "indigenous" and "vernacular"– the characteristics of building in any one place being recognizable and distinguishable from that of another.
Availability of materials, implication of climate, societal "customs" all fostered a state of affairs that engendered the notion of "region", and regionalism.
No longer so.
If we want to be reminded of how it feels to wander the quay in Portofino or a street in Tokyo we can be taken there via the iphone in our pocket.
And although the human race has some distance to go, we are gradually not just learning, but being in a state that knows that joy – and pain, indeed all aspects of the human
condition are universal.
We all have concepts of what constitutes art, and we all, it seems, know that passion we call love, though we endeavour to articulate an explanation of either at our peril!
So perhaps it can be said of OSO's intriguing proposal at Deloitte Summit in Vancouver for Westbank.
One is so easily reminded of the narrators and journalists of centuries past – critics and commentators – in art, music and architecture alike – pontificating – often knowledgeably – from a context of "know". Not often reaching – to imagine, or listening, to hear what might not have previously been heard.
In architecture the work must be created, then we must let that work live – take its place in the environment we inhabit – let it take part in contributing to the mood of the moments that make up its lifetime – and that of we who experience it all, – like the day, like the season, like the decades, as they continue to expend that which we call time.
It is with anticipation that the journey begins.
Paul Merrick, 2017
Founder, Merrick Architecture